Infinite creativity opening the coming century

ITOTEC, which is reputed in the world as a cutting machine maker having more than 90 years of business experience since it started business, keeps adding new clients.
In the background why ITOTEC is needed not only from Japan but also in the world, there is our attitude leading the industry at the global front line while promoting technical innovation under the mission of contribution to the people and society.
And now, when we face a new unknown century, we have integrated our professional technology and expertise having been nurtured, to play an important role on the customer's side with truly valuable sophisticated functions. Our goal is to develop cutting-edge technology that can arouse surprise and excitement.
ITOTEC keeps developing the new way with a searching mind and enthusiasm.
| | | | |
| --- | --- | --- | --- |
| | | "Human being" is the theme of the computer technology | |
A user-friendly cutting machine is developed
It is the cutting machine that is indispensible for the printing, binding and paper craft industries. The requirement is very high. The cutting machine must be complete in every aspect such as the speed, accuracy, quality and safety. Operators of the cutting machine have suffered for years from waist pain caused by the lifting work of heavy paper and accidents caused by sharp cutting edges. ITOTEC's technology has eliminated these problems.
We produce epoch-making functions such as the "phototube safety device" that stops the machine if foreign matter is detected beneath the cutting edge, "lock function" that avoids double descent of the cutting edge and "paper feed/discharge system" that reduces the burden of the operator to decrease the work load and increase the productivity and efficiency. These functions play an active role.
Readily meeting requirements of various new materials, starting at paper
We cut not only paper but the grip of the golf club, fishing rod, industrial plastics and all other materials handled by us in daily life. The know-how of ITOTEC's cutting machine is widely used for the cutting of various materials. Thickness varying among materials and complex resistance. Even higher-level functions are needed than those needed for paper. To meet these needs one by one deliberately, we improve the paper cutting machine and develop original machines specific for each material. Thanks to the history and accumulated wisdom, we can readily meet customers' requests flexibly.
Toward new computer-aided system
The cutting machine was given birth in Germany together with the printing machine and has been developing in the history of the printing machine. The hydraulic technology was adopted in 1960s and a machine using magnetic tape was invented in 1963. Though gradual advance was observed, most people relied on hands and skills. An innovative advance was brought with the new idea and technology of ITOTEC. In 1972, a carefully programmed numerical control computer was installed in the cutting machine first in the world. The cutting machine was highly reputed as a history-changing, epoch-making system due to high performance and safety and no need for consumable parts. This technology propagated to other manufacturers because it was indispensable for the cutting machine. We kept promoting advance of the computer-aided cutting machine while combining the paper discharge/feed system, promoting a total computer-aided cutting system at the higher level.
| | | | |
| --- | --- | --- | --- |
| | | Put eyes on the global market as a unique specialist | |
Communication with the world
ITOTEC's network covers every area on the earth including Europe, North America, South America, Near and Middle East, Asia, Africa and Australia. As the use of Internet propagates explosively, communications are exchanged in real time around the world. Comprehension of live information of various areas in the world and feedback of the information in the technical job site are one of important missions of communications. Starting with person-to-person access, we aim at global network. ITOTEC welcomes fresh sense for approaching the world.
It is interesting to be being different from the others
Original and bold ideas are needed for Design, and the role of a consultant for the customer with wide range of knowledge and information is needed for Sales, and reliable activity and all-round knowledge are indispensable for Service, and deliberate cautiousness and skills are needed for Assembly; various capabilities are needed in each field of "Large Cutting Machine.com." The unknown possibility of the 21st century can be developed only by those having abundant creativity and flexible inspiration. We expect a lot to unique personnel who can wind up a new wave in the world of the cutting machine.
Youth not knowing hesitation is the power
At international printing equipment exhibition "IGAS" held in Tokyo once every four years, enthusiasm and various languages are exchanged in the site gathering the cutting-edge technology from all over the world. Young employees gathering at "Large Cutting Machine.com" are favored by visitors from all over the world with magnificent attitude. They eagerly and vividly explain products to customers from different countries with different cultural background and different languages, gesticulating with them. Their positive actions are backed not by language skills but by deep knowledge and love into their own products and young sensitivity not knowing hesitation. Young power filled with challenging spirits is needed.
| | | | |
| --- | --- | --- | --- |
| | | ITOTEC's advance for 90 years | |

1919

Joichi Ito, the first president, started production and marketing of various binding machines, most of which were paper cutting machines, in Nagoya.

1939

A new factory was built in Nakamura-ku, Nagoya, and started operation.

1945

Almost all buildings and equipment were burned and lost in the Nagoya air raid.

1946

The factory almost lost in the war disaster was reconstructed and operation was restarted.

1950

Organization was changed to Ito Iron Works, Ltd. with a capital of 500,000 yen.

1952

The spring clamp type ZM cutting machine was released.

1961

Type ZY hydraulic high-speed cutting machine was released.

1963

The magnetic tape storage type cutting machine was released.

1965

A small cutting machine, type SP22 cutting machine, was released.

1966

Tokyo Sales Office opened. A four-story headquarters building was built in Nakamura-ku, Nagoya.

1968

The Shikatsu factory was moved as an assembly and test operation factory.

1969

Osaka Sales Office opened.

1970

Takamatsu Sales Office opened.

1972

Cutting machine ZDNC-I equipped with an NC unit was released first in the world.
The model replaced earlier magnetic tape types and served as a prototype of the current computer-equipped cutting machines.

1974

The capital was increased to 100 million yen. Inuyama factory was built in current Inuyama City and started operation as an assembly and test operation factory.

1975

Computer-equipped cutting machine MNC-2 was released.

1976

Exportation was started.

1980

Computer-equipped cutting machine MNC-3 was released. It was exhibited at IPEX Exhibition held in Birmingham, England.

1981

The headquarters and all factories were integrated in the current site.

1982

Participated in DRUPA, the largest printing and binding exhibition in the world held in Dusseldorf, West Germany.

1984

Paper discharge stacker was released.

1985

FC type cutting machine was released.

1986

Computer-equipped three-way cutting machine FCT was released first in the world.

1988

ITOTEC CO., LTD. became the new company name through corporate identification (CI) activities.

1989

The automatic paper feed/discharge system was exhibited in the IGAS Exhibition held in Tokyo. The capital was increased to 200 million yen and a new six-story building was built at the current address.

1998

Itotec has opened its official web site.

2002

Packaged periodic inspection service "Regular Support Service" was started.

2003

Takamatsu Sales Office was installed in Shikokuchuo as a Shikoku district sales office.

2003

eRC Series equipped with a color LCD touch panel was released.

2007

An L-shaped layout paper feeding system "RSL3.1" was released in IGAS2007.

2007

Software for analyzing CIP4/JDF data and converting it into paper cutting data, "CIP4 Pack," was developed.

2008

Our 10000th paper cutting machine was delivered.

2011

Cutting Machine.com was opened as a site for applications in various industries.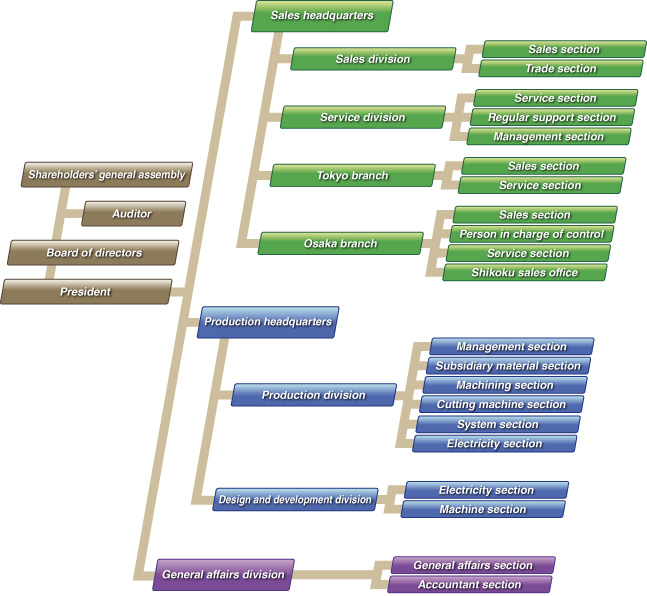 Managing site name

Cutting machine.com

Company name

ITOTEC CO.,LTD

Business start

February 13, 1919

Establishment

February 13, 1950

Capital

JPY 225,000,000.-

Representative

Mr. Yoshiyasu Ito

Employee

55

Company home page
Sales office

【Headquarters】
10-4, Funada, Inuyama-shi, Aichi 484-0912 JAPAN
TEL +81-568-67-5311 FAX +81-568-68-0495

【Tokyo branch】
1-31-1, Nakadai, Itabashi-ku, Tokyo 174-0064 JAPAN 
TEL +81-3-5920-2161 FAX +81-3-5920-2171

【Osaka branch】
3-29, Aramotoshinmachi, Higashiosaka-shi, Osaka 577-0022 JAPAN
TEL +81-6-6618-5335 FAX +81-6-6618-5337

【Shikoku sales office】
3307, Kamiyama, Shingu-cho, Shikokuchuo-shi, Ehime 799-0302 JAPAN
TEL +81-896-72-2020 FAX +81-896-72-2050

【Fukuoka Service Center】
6-1-6, Hakozakifuto, Higashi-ku, Fukuoka-shi, Fukuoka 812-0051 JAPAN
TEL +81-92-651-6031 FAX +81-92-631-1746

【Sapporo Service Center】
18-1, Kita Ichijyo Nishi, Chuo-ku, Sapporo, Hokkaido 060-0001 JAPAN
TEL +81-11-611-7221 FAX +81-11-611-7224

【Niigata Service Center】
1-11-10, Yokokoshi Chuo, Konan-ku, Niigata-shi, Niigata 950-0208 JAPAN
TEL +81-25-385-2059 FAX +81-25-385-3701

【Sendai Service Center】
1-132-7, Okada Uramichi, Miyagino-ku, Sendai-shi, Miyagi 983-0003 JAPAN
TEL +81-22-258-1758 FAX +81-22-258-1793